Skin Creation Tips
>> Back to Part 1 <<
>> Back to Part 2 <<
>> Back to Part 3 <<
Firstable, I'd like to thank Eloh Eliot for providing great skin template (Another Skin Templates) for Second Life.
My skin is also created based on her skin template.
Mesh head created by Mesh Head Studio is compatible with Second Life Skin template. So if you are already a skin designer in Second Life, you don't need to read this section.
The only important thing is:


!!Save your skin texture without alpha!!
in other words,
Save your texture as JPG or as TGA24bit !!
PNG and TGA32bit format is NOT suitable for mesh head.
It will cause alpha glitch when you wear eyelashes or mesh hairs.
Keep this in your mind and, proceed to
Texture preparation for Neck Seam Concealer
.
For those who knows how to handle PSD file but new to second life skin creation, you can download my skin template from
download section
of this site.
When you open the file in your photoshop, you'll find a lot of layers separated in groups.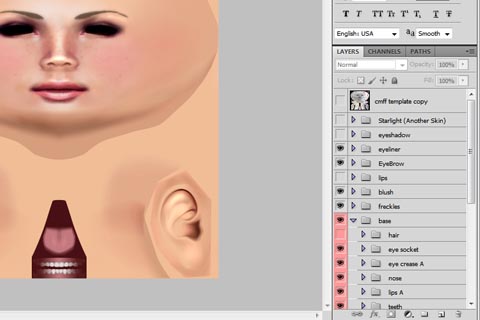 Lets begin with simple modification.
Open "EyeBrow" layer group in the layer panel.
You will find EyeBrowA, EyeBrowB and EyeBrowC subfolders.
Now EyeBrowC has "eye" mark on the left.
Click on this "eye" mark. The EyeBrow will dissapear.
Click on empty small box on the left of EyeBrowB.
Now EyeBrowB has "eye" mark and Yey! you just changed the EyeBrow of the skin!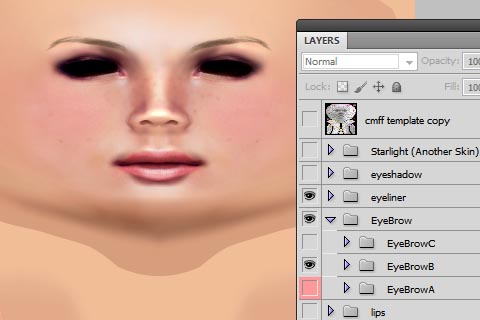 Next, let's add eye shadow to the skin.
Click on small box on the left of eyeshadow group.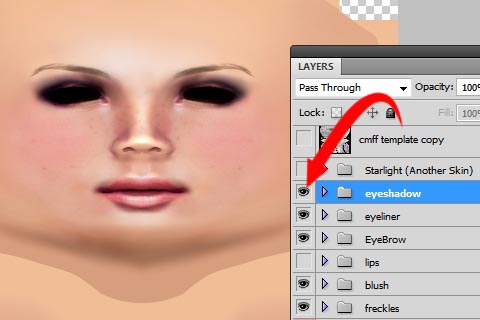 Eyeshadow added! That was easy too!
But let's go ahead and change the shadow color too.
Open eyeshadow group and you will find a layer called "Outer (Color Me!)".
Select this layer and change the color using backet tool.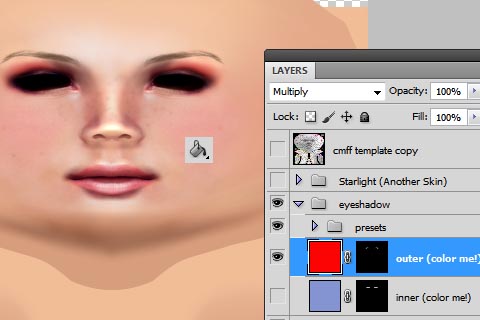 In the image above, I changed the shadow color to red.
Using similar technique, you can adjust lip color, blush color etc.
Its just a matter of knowing which layer does what.
Explore your PSD file and find the right one to modify.
Changing Base Skin Color
Changing base skin color becames a bit tricky because I added photo sorce detail on top of Eloh's skin template.
But its still doable in just a few steps.
First, open "base" layer group and go all the way to the bottom.
You will find a layer called "base color".
The layer also has a "Color Overlay" effect. Double click on "Color Overlay".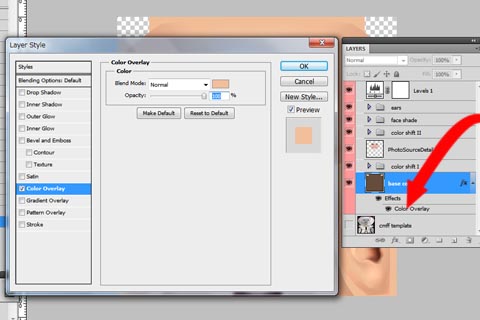 Layer Style window will open.
Click on small color box in the Color Overlay tab.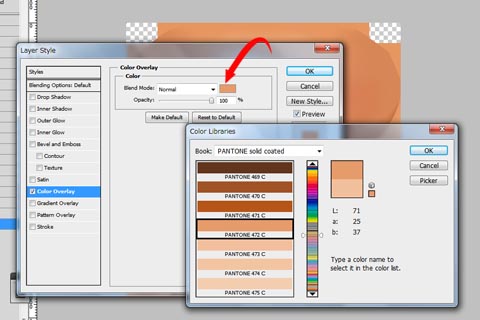 Select any color you want for your skin.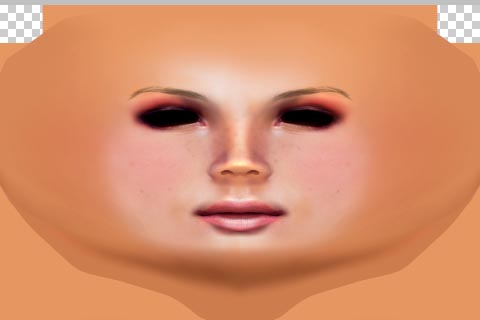 In the image above, I picked a bit darker skin color.
As you can see, part of skin color is not matched to other part.
This is because of the layer called "PhotoSourceDetail", just 2 layer above "base color".
Select "PhotoSourceDetail" layer and go to "image", "Adjustment", "Hue and Saturation".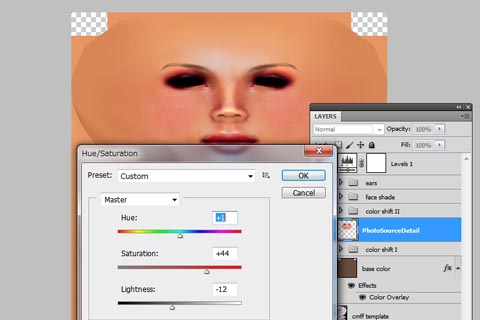 Adjust Hue, Saturation and Lightness so that the part will blend nicely to other skin parts.
If it is too difficult to blend skin, you can also try reducing the opacity of the layer.
If your skin texture is complete, remember to save the file as JPG or as TGA24bit before upload it to SL.
Don't forget to change the skin color of the body to the same base color as head.
You can find original skin template from Eloh Eliot
here
.
These tutorials might also help.
Site1
Site2
>>Texture preparation for Neck Seam Concealer<<